We boarded a one-way flight to New Zealand last week.
I still can't believe it because I honestly never thought this trip would happen.
When I first moved to Chicago in 2009 we had just gotten married and I didn't have a job. I had quit my position as a newspaper reporter in Minnesota to move, but it was a terrible time to look for a job with the economy in shambles after the 2008 Great Financial Crisis. So, while I job hunted, I found a new guilty pleasure: travel blogs.
I've always loved traveling – a trait instilled in me by yearly trips with my family around the US. When I met Ben in college, my love of travel rubbed off on him and we went to Las Vegas and NYC before graduating.
Travel has always been an experience that makes me feel like my best self. There is just something so energizing about meeting new people, wandering through the streets of new places, trying new foods, and learning new things that vitalizes me.
I was in need of that while job hunting in a dying newspaper industry after the financial crisis. So, I would escape to far off places through the words of travel bloggers and dream about Ben and I quitting everything to travel.
But I never thought it would actually happen.
After all, my husband is a logical, Type A person, who was worried about leaving a steady income, funding retirement, and explaining the gaps on our resumes.
But things started to change in 2015.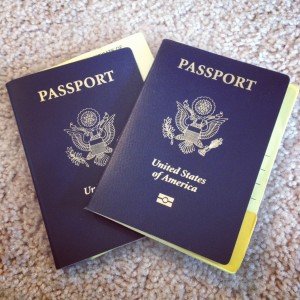 We had been living in Chicago since 2009 (Ben since 2008), and while we loved the city for many years, it seemed like a dream that we were starting to wake up from. The things that we used to love about it: the fast pace, the unique and varied neighborhoods, great foods, endless festivals and concerts, and amazing architecture were all becoming too familiar. The shimmer of the city had dulled. We'd come to Chicago with a five-year plan, but when those five years were up, we couldn't imagine leaving. In early 2015, that sentiment was starting to change.
We spent a lot of time in Minnesota due to losing several family members, and while we always loved and missed our families and friends, it was sort of an out of sight, out of mind thing. Our repeated trips to Minnesota in 2015 put everything that we were missing out on very much in sight. It was the first step in both of us realizing that we wanted to do something different.
For months, Ben and I discussed what we wanted to do: moving back to Minnesota immediately and both looking for employment, moving abroad and teaching, or traveling full time.
As 2015 progressed, it became clear that our best solution, the one that allowed us the freedom and flexibility that we were craving, might be the most extreme.
On October 10, 2015, our sixth wedding anniversary, we bought the one way tickets to Auckland, NZ. The trip that I'd been dreaming about for years was going to happen.
On Friday we landed in Auckland where my cousins picked us up from the airport. Our adventure has officially started, somebody pinch me!