Hi! We are Ben and Sarah Law and if you are looking for legal advice, you've come to the wrong place. We are a couple of travel enthusiasts who have made the decision to quit our jobs and travel indefinitely.
The Laws
Ben is my witty and ever-entertaining husband. The tangy zip to my Miracle Whip. Until I convinced him to quit everything and travel full-time, he worked in the financial services industry. It was the job he landed right out of college that ultimately brought us to Chicago from Minnesota where we were born and raised.
I am the other half of The Laws of Travel. I've always loved to travel and although I grew up in two small towns (400 and 2,800 people respectively) my parents always told me I was a big city girl at heart. I got the opportunity to test their theory when Ben and I got married and I joined him in Chicago where he had been living for a year-and-a-half. Seven years later we still loved Chicago, but we were itching for a change.
We met as freshmen in college at the University of Minnesota Duluth where we lived on the same floor. During sophomore year we started dating and have been together ever since. We love exploring new places, trying new recipes and restaurants, finding new music, learning about different cultures and watching Murder She Wrote.
Why Travel?
It wasn't a decision that we came to easily. In fact, it took nearly seven years for the pieces to all fall together. After reflecting on the last several years, we can admit that our work/life balance isn't where we want it to be and we've gotten away from doing some of our favorite things. After a particularly tough year when we lost six people that we loved, we've also been reflecting on what we really want out of  life. The break for us to travel will allow us to do many of our favorite things, and hopefully hopefully help us evolve into best versions of ourselves.
Why a website?
We started the-laws-of-travel.com for several reasons: First, as a way to keep our family and friends abreast of our travels and as a travel diary of sorts for us. Second, as a way for me to get back to writing. I worked as a newspaper reporter throughout college, and as my first profession before moving to Chicago. I loved it, I miss it, and it is nice to get back to it.
More about us
Sarah:
I have had two "careers" since graduation: Newspaper Reporter and Second grade teacher
I put together conferences for the U.S. Department of Defense and Federal Government for a year.
I love buying souvenirs from our trips and our life of travel is going to put a serious damper on our collection.
My favorite place in the world is my family's cabin on Birch Lake in Hackensack, Minnesota.
Ben:
Has an affinity for nicknaming the people he is closest too, whether they like the nicknames or not.
Would eat Asian cuisine for breakfast, lunch and dinner, especially Vietnamese food and Ramen.
Always has a book or three that he is reading.
Favorite Locations and Activities 
We traveled to Myanmar and Vietnam in 2012 and were completely captivated. We often talk about how it was the first place we traveled where no one looked like us, lived like us, or believed like us, and how incredible it was to learn about cultures that were in such contrast to our own. We plan to spend a large portion of our time abroad in this area of the world that left such a mark on us.
Favorite things to do in Vietnam: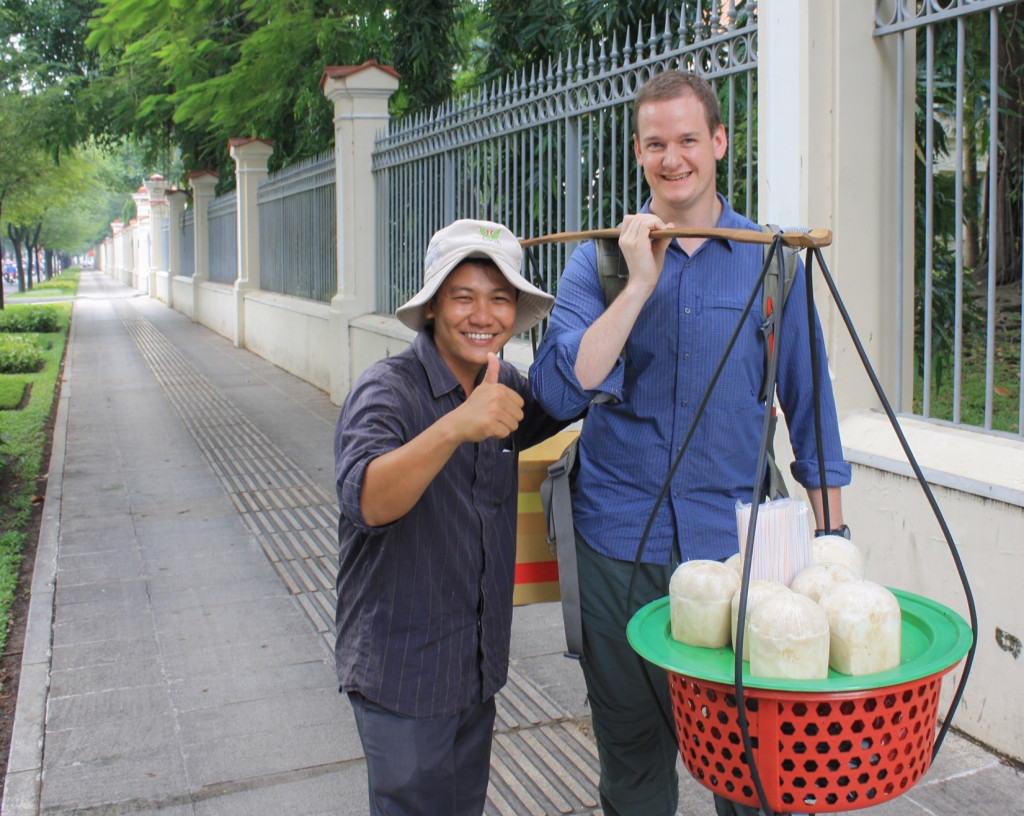 Favorite things to do in Myanmar:
Boat tour of Inle Lake – The boat that took us to our hotel also took us on a day tour of the lake, stopping at different trades (blacksmith, silversmith, farming, cigar making, etc.) that are present in the community.
We loved Bagan for many reasons, but it started at our hotel, Amazing Bagan. They helped organize our driver for our day tour of the temples. We also really enjoyed a tour of a lacquerware factory similar to this one.
The Shwedagon Pagoda in Yangon (Rangoon) is not to be missed. However, make sure to hire a guide while you are there. We had a college professor that spent several hours with us, talking about religion, history, and life in Myanmar. It made the experience unforgettable.
Shopping – We enjoyed getting lost at the Bogyoke Aung San Market, shopping for longyi, lacquerware, art, and gemstones.
We traveled to Tanzania in 2014 and it remains one of our favorite places in the world. Several things make this country so special to us. First and foremost, the people. We met people from many tribes including the Maasai and Iraqw, and they were warm, helpful, and excited to share their cultures with us. Next, it was absolutely wonderful to see animals in their natural habitat. Having only ever seen most of those animals in a zoo, it was fun to watch them outside of captivity. Finally, the diversity of the landscape was incredible; from the mountains of Kilimanjaro to the flat dusty plains of the Serengeti.
Favorite things to do in Tanzania:
We loved our time at Gibbs Farm. We spent an afternoon following elephant tracks to the elephant caves on a walking safari, and bought our favorite piece of art from a local artist that was on display in the gift shop. While we only had a brief stay there, we would've loved at least a week to relax.
Watching the migration. If you have the opportunity to stay at Kimondo Lamai in the Serengeti Mara, we couldn't recommend it enough. The tented camp was staffed by the friendliest people and we met great friends over family style dinners. Since this part of the Serengeti was only recently opened, we were often the only safari vehicle on our side of the river watching the migration.